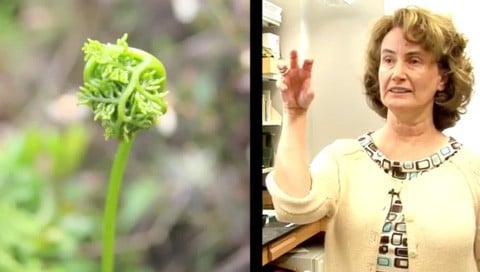 Biologist Kathleen Pryer explains in a video, AFTER THE JUMP…
Duke University writes: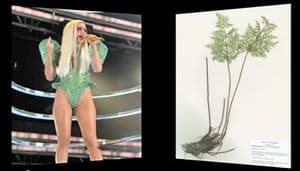 Two of the species in the Gaga genus are new to science: Gaga germanotta from Costa Rica is named to honor the family of the artist, who was born Stefani Germanotta. And a newly discovered Mexican species is being dubbed Gaga monstraparva (literally monster-little) in honor of Gaga's fans, whom she calls "€œlittle monsters."
"We wanted to name this genus for Lady Gaga because of her fervent defense of equality and individual expression," said study leader Kathleen Pryer, a Duke University biology professor and director of the Duke Herbarium. "And as we started to consider it, the ferns themselves gave us more reasons why it was a good choice."…
…Like most ferns, the Gaga group is "homosporous." They produce tiny spherical spores that drift to the ground and germinate into heart-shaped plants called gametophytes. These independent little organisms can be female, male or even bisexual, depending on growth conditions and what other kinds of gametophytes are around. When conditions are right, they exchange sperm between gametophytes, but when necessary they sometimes can also self-fertilize to produce a new fern.
"The biology of these ferns is exceptionally obscure and blurred by sexual crossing between species," Pryer said. "They have high numbers of chromosomes and asexuality that can lead to offspring that are genetically identical to the parent plant."
Pryer freely admits that she and her lab are big Gaga fans. "We often listen to her music while we do our research. We think that her second album, 'Born this Way,' is enormously empowering, especially for disenfranchised people and communities like LGBT, ethnic groups, women — and scientists who study odd ferns!" Pryer said.
Watch, AFTER THE JUMP…