The NY Daily News reports: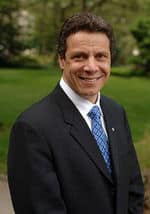 New York's top court today refused to hear an appeal challenging the state's gay marriage law. Without explanation, the Court of Appeals denied a request to appeal by New Yorkers for Constitutional Freedoms, an evangelical group.
….
The group argued that the Senate Republican majority violated the state open meetings law by meeting behind closed doors, including with Mayor Bloomberg, to discuss the issue.
A state appellate court in July unanimously reversed a lower court ruling and dismissed the case. Because the decision was unanimous, New Yorkers For Constitutional Freedoms needed permission from the state's top court to continue its appeal, a request that was denied today.
Governor Andrew Cuomo hailed the decision:
Today, the New York State Court of Appeals, the highest court in the State, denied leave to appeal the validity of the Marriage Equality Act, which affords same-sex couples in this State the right to marry. New York State has served as a beacon for progressive ideals and this statute is a clear reminder of what this State stands for: equality and justice for all. With the Court's decision, same-sex couples no longer have to worry that their right to marry could be legally challenged in this State. The freedom to marry in this State is secure for generations to come.