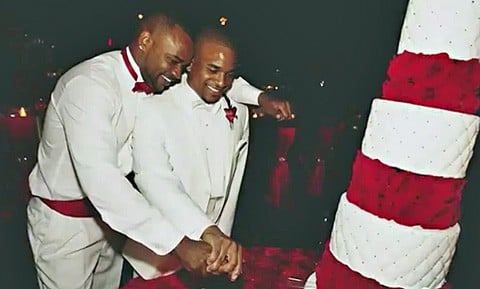 Robert and Nathanael celebrated a September 8 wedding at The Mansion at Griffin Gate Marriott Resort in Lexington, Kentucky.
Watch, AFTER THE JUMP…
The Advocate writes: "Video of the couple's wedding went viral on Twitter Tuesday, as some found it surprising that a member of the Kappa Alpha Psi fraternity, a traditionally African-American fraternity, would get hitched with the support of family and friends. Brown confirmed on Twitter that only Gay is a member of the fraternity, but added that he's glad he could be an inspiration for others who have reached out to him."
Don't miss our other recent Gay Wedding videos…
Gay Wedding Video of the Day: JoAnna and Jenny [tr]
Gay Wedding Video of the Day: Kenton and Johnny [tr]
Gay Wedding Video of the Day: Jeff and Joe [tr]
Gay Wedding Video of the Day: Tim and Nic [tr]
Gay Wedding Video of the Day: Randy and Keaton [tr]