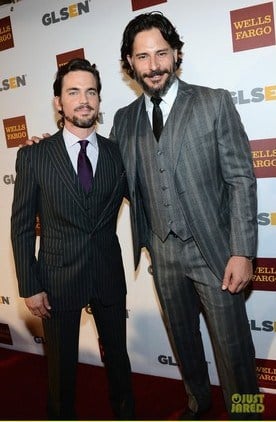 Matt Bomer took the stage alongside partner Simon Halls last night to accept GLSEN's Inspiration Award and to discuss his own experience growing up gay in high school.
"When I was in high school, there was no safe haven, there was no outlet for you to speaking your mind," he said, according to E! News' Marc Malkin. "So I did what any self-preserving 14-year-old would do—I signed up for the school play and also the football team to cover my tracks."
"When that happens, when you aren't allowed to speak about who you are, one of the most authentic parts of who you are, which is who you love or is who you're attracted to, [one] feels invisible."
He went on, "GLSEN gives visibility and authenticity to kids all across the country."
Bomer's Magic Mike co-star Joe Manganiello spoke before giving the men their award in Beverly Hills, telling the couple and a crowd that included Jim Parsons and Amy Adams, "You are the example that the rest of our country needs to wake up and see in terms of equality and putting and end to the bullying epidemic and making sure that every family is respected in our schools and our society."
[Image via Just Jared]