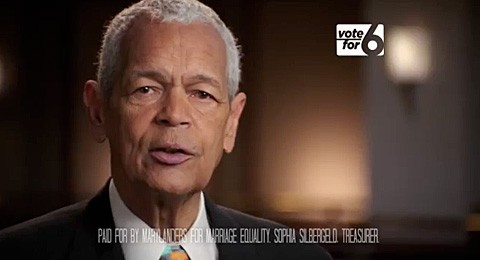 NAACP Chair Emeritus Julian Bond is out with a brand new ad for Question 6, the ballot measure that would put Maryland's legislatively-passed marriage equality law into effect.
Watch it, AFTER THE JUMP….
Some fundraising news for Marylanders for Marriage Equality dropped late on Friday, via the Washington Blade:
The group defending Maryland's same-sex marriage law will report later on Friday that it has raised $3.2 million.
Marylanders for Marriage Equality's campaign finance report that it will file with state officials will also note total expenditures of slightly more than $2 million, with roughly $1.2 million cash on-hand. It will indicate just short of $400,000 of in-kind donations from the Human Rights Campaign and other organizations.
The report will also include more than 950 pages of donors and contributions.
Added Josh Levin, campaign manager:"We've always said this is a $5 million- plus campaign and hope to meet that goal as we enter the final stretch."
Help out Marylanders for Marriage Equality HERE.