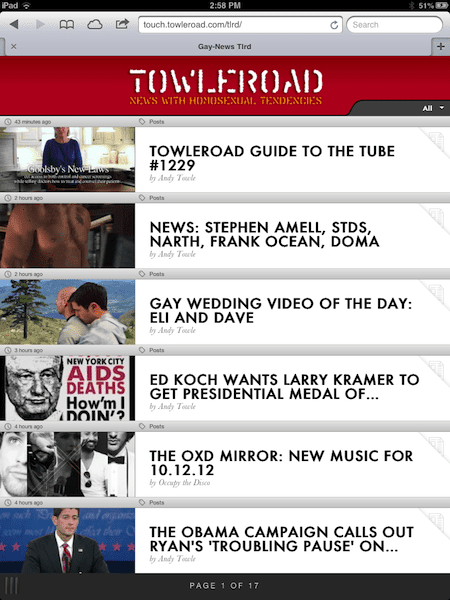 If you're reaching the site on your iPhone or iPad you already know we're started automatically redirecting visits from these devices to new editions of Towleroad optimized for iOS devices and Kindle Fire.  (That's the front page of the iPad version below.) 
If you haven't yet, it's time RIGHT NOW!
Open Safari on your iPad, iPhone, iPod Touch and type "www.towleroad.com" or our universal shortened version, "tlrd.com" in the URL bar and you'll be redirected. Be sure to save it to your home app page and share with friends.
Andy and i couldn't be more pleased to announce these new editions, along with an 'alpha' version for Android users, all of which are in response to significantly increasing demand from users. Last month more than 1 in every 5 visits to Towleroad was via a mobile device. And those 22% of visits accounted for 20% of all pageviews. The chart below shows the steady increase over the past 3 years.
The second chart showing that 81% of our mobile visits are on iOS devices should explain pretty clearly why we prioritized those editions. 
But as mentioned, we're not leaving the increasing number of Android device users empty-handed. We have a slightly less polished edition, what I'd qualify as a alpha-level release, Towleroad's Google Currents edition — which can be installed on either Android or iOS devices. So if you are part of the 17% or you're just not happy with the edition we're redirecting you to, you can get all the information and links needed to install for either Android or iOS devices, over at the Google Currents platform.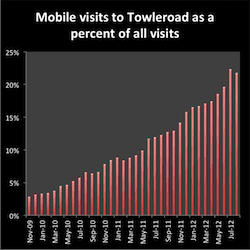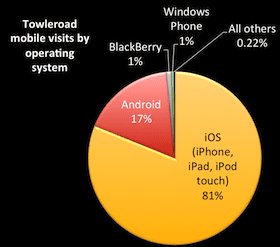 What this all mean is that as of today,  we have some form of optimized edition for approximately 98% of your mobile visits …or at least a running start at them…and that's 98% more visits than we were optimized for yesterday. Enjoy.
We will be including comments and access to comments shortly. You'll notice. Right now the comments icon is already in place at the bottom but is not clickable.
HERE ARE SOME INSTRUCTIVE LINKS if you need them:
> Getting Access on your Mobile Device.
> Basic Features and Navigation.
> How to Add an App Icon to Your Home Screen.
> Sharing Towleroad with Others (IMPORTANT).
> Towleroad on Google Currents.
Please do give it a try and let us know what you think what your ideas might be for making Towleroad better overall and what–if anything–we should tackle next. 
Please leave us any constructive comments below. Substantial feedback, requests for direct support, and private messages are better sent through our comment form . Thanks again for your support and for your help with the beta.