NYC Mayor Michael Bloomberg has made the largest individual contribution received by proponents of same-sex marriage in Maryland, the NYT reports: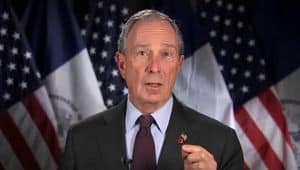 Mr. Bloomberg, a billionaire who attended college in Maryland at Johns Hopkins, dipped into his personal fortune to help persuade New York lawmakers to approve same-sex marriage in 2011, and he has supported a similar effort in New Hampshire. His contribution came after discussions with Maryland's governor, Martin O'Malley, a Democrat who has spearheaded the effort to pass the referendum, known as Question 6.
"The fact that someone of Mayor Bloomberg's national stature and recognition would care about our referendum campaign for civil marriage equality, I think, tells people all over our country that this is a serious and real campaign," Mr. O'Malley said in an interview on Thursday evening from Kentucky, where he was attending the vice-presidential debate.
In related news, HRC added an additional $1 million to the state marriage battles:
 This brings HRC's total contributions to the four ballot measures to $4.4 million and $7.3 million overall during this election cycle.
Today, Towleroad is joining with The Four to help raise money for the state marriage battles. If you wish to help out, please click HERE.