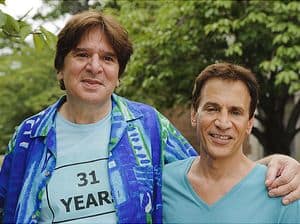 New York City police confirmed that long-time New York City gay activist Lou Rispoli (pictured, left) was taken off life support after being attacked last night. 
Andy Humm from Gay City News says 62-year old Rispoli was walking with two men in Queens at about 2 am last night and was soon hit in the head with a blunt object.
"He was hit in the head with a blunt object with such force that neighbors who heard the assault but did not see it thought he had been shot," Humm reports. He was on life support but has now been moved to the hospice wing at Elmhurst Hospital. City Councilman Jimmy Van Bramer held a press conference about the attack today and said, "[Rispoli] will not survive, and this will be a homicide".  The councilman described Rispoli's fate as "a tragedy for our neighborhood and our city." There's no confirmation one way or the other on whether this was an anti-gay attack.
Joe notes that Rispoli married partner Danyal Lawson after same-sex marriage was made legal last summer. The men met 31-year ago on the subway. "It was kind of a cheesy line," Rispoli told the New York Daily News last year. "We got off at the same stop and we both also smoked, so the line was, 'Have you got a light?'" The men have two adult daughters, the paper said.
Image via NYDN.