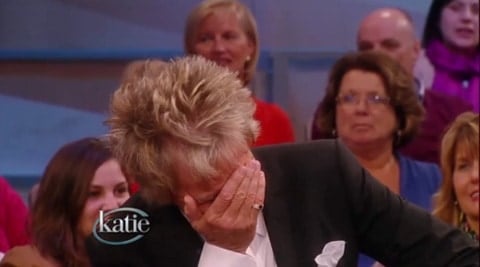 Rod Stewart took the opportunity on Katie Couric's daytime show "Katie" to dispel some of the urban myths that have surrounded his career, including one involving a medical operation to remove a pint of semen from his stomach.
Asked Katie: "Fact or fiction? Rod once needed to get his stomach pumped after an encounter with sailors at a gay bar in San Diego."
Stewart explains that the rumor was started by a publicist who wanted revenge.
"That is definitely not true. I'm as heterosexual as they come."
On another portion of the show, Katie also shared a photo of Stewart and Elton bathing next to one another after a soccer game.
Watch, AFTER THE JUMP…