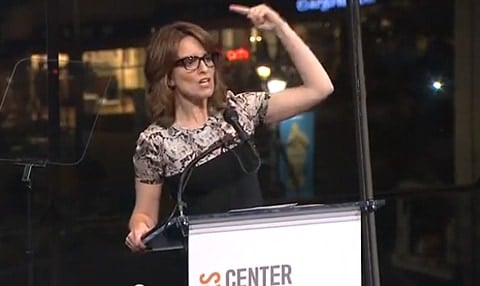 Tina Fey blasted Rep. Todd Akin, Richard Mourdock, and Republicans like them at the Center for Reproductive Rights Inaugural Gala, Think Progress reports:
"I wish we could have an honest and respectful dialogue about these complicated issues, but it seems like we can't, right now. And if I have to listen to one more grey-faced man with a two dollar haircut explain to me what rape is, I'm gonna lose my mind. I watch these guys, and I'm like, 'What is happening? Am I a secretary on Mad Men?'"
Watch, AFTER THE JUMP…
The St. Louis Post-Dispatch reports that Rep. Todd Akin (R-MO) — who came under fire after asserting that "legitimate rapes" don't often result in pregnancy — was arrested multiple times in the 1980s for protesting outside of abortion clinics in St. Louis. Between 1985 and 1987, Akin worked with other anti-choice activists to physically block women's access to reproductive health clinics in the city, during what RH Reality Check describes as a "hotbed of anti-choice violence and harassment" in St. Louis. At that time, Akin went by his given first name, William, rather than the middle name he currently uses.