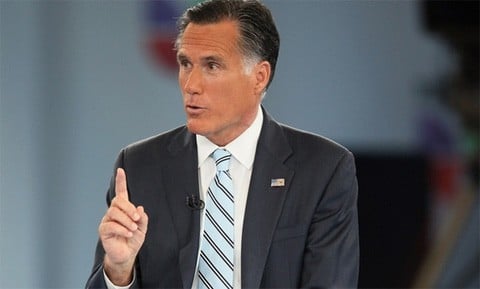 Buzzfeed investigates "a point of public curiosity" – Romney's ever-changing complexion:
A knowledgeable source tells BuzzFeed the answer is in a bit of cosmetic technology used commonly by celebrities: spray tanning. The Republican nominee has made a habit of spray tanning before major speeches, debates, interviews, and other events that have a chance of getting wide TV coverage, the source said. He pays for the process out of pocket — sparing his campaign the expense, and the task of masking it on public campaign finance reports — and steers clear of public salons where he could be recognized. Instead, he gets misted down in the comfort of his own home or hotel suite.
The Romney campaign flatly denied that the candidate spray tans: "Not true," spokeswoman Andrea Saul said in response to an inquiry.
But Buzzfeed has the experts weighing in:
"Oh, for sure he had a spray tan," Jimmy Coco, a celebrity tanner from Los Angeles, told BuzzFeed while looking at pictures of the candidate. "I just see the sort of red hue that you get from some of the spray tanning places… The ears are white. That is a giveaway. If you look at Obama, he's all one tone. A lot of times, what they do when they're giving a spray tan, they'll put a cap on and their cap will cover the ears."