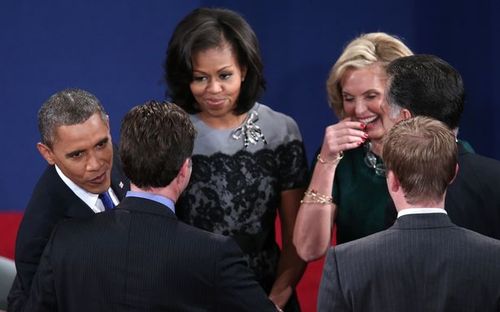 Last week, Tagg Romney offered some headline-making remarks when asked by a radio host how he felt when Obama called his father a liar.
Uh, you know, uh, well, jump out of your seat, and you want to rush down there to the debate stage and take a swing at him. But you know you can't do that, because um, well first because there's a lot of Secret Service between you and him…
After Monday night's debate, the eldest Romney son (to Obama's right in the photo above) reportedly apologized:
Sources tell ABC News that on stage after the debate last night, Tagg apologized to the president for the remark, a mea culpa the president quickly accepted. A source close to the Romney campaign reports that Tagg's younger brother Josh, 37, notes that he has, in fact, taken punches from Tagg – and that the president has nothing to worry about.