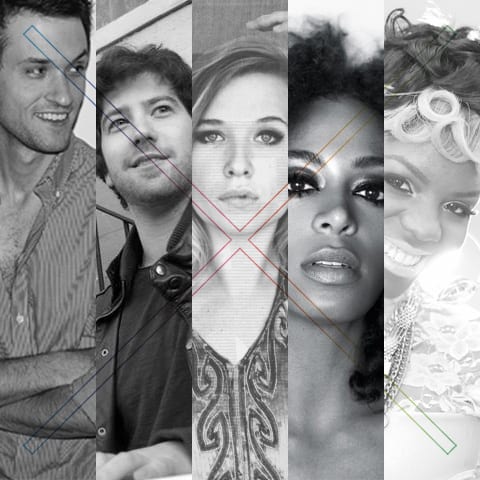 BY OCCUPY THE DISCO / RU BHATT
The OXD Mirror is a weekly music column brought to you by the boys of OCCUPY THE DISCO (OXD), a New York City based movement created by three music lovers, Ru Bhatt, Josh Appelbaum, and Tadeu Magalhães, who want to share their love for disco, house and dance music with the world. 
Holy Ghost – 'It Gets Dark'
Holy Ghost! is a band and DJ duo comprised of New York-based childhood friends Nick Millhiser and Alex Frankel. They made a huge impact on the nu-disco scene with their singles 'It's Not Over,' 'Wait and See,' and 'I Will Come Back' in addition to massive remixes for Mark Ronson's 'Somebody to Love Me' and Monarchy's 'Love Get Out of My Way.' After waiting over a year and a half, we finally have new original music from the duo with 'It Gets Dark.' The song features sinister synths and a thumping beat that quickly progress into the wonderful sparkly disco sound that granted the band with critical acclaim on their self-titled LP. While it's unclear whether the song will be included on Holy Ghost!'s yet-to-be-announced sophomore release, this spooky disco tune serves to remind us that the 'Ghost!' of disco's past is here to stay.
Mike and Cody – 'Monster Soul'
Mike and Cody experiment with brilliant lyrics, droning synths, and funky falsettos on this track to create a harmonic musicality self-described as a mixture of Foster the People, MGMT and Michael Jackson. While that combination may sound a bit aspirational to the casual listener, the D.C.-based duo have managed to successfully meld those elements and deliver a catchy, haunting pop gem.
MORE TRACKS AFTER THE JUMP…
Wild Belle – 'It's Too Late (Snakehips Remix)'
'It's Too Late' is a reggae/island influenced track by the Chicago sibling act known as Wild Belle. With this remix, North London-based DJ and producer Snakehips adds a pulsing throb to vocalist Natalie Bergman's lazy, sultry coo to create a casual, soulful tune that has just enough seductive funk to fill the dancefloor.
Solange – 'Losing You (Cyril Hahn Remix)'
I've been impatiently awaiting new music from Solange Knowles since the release of her 2008 sophomore album Sol Angel & The Hadley Street Dreams, an effort that redefined her as an artist and made a significant musical imprint across the industry. Since then Solange has kept a rather low profile on the musical front, despite a fantastic collaboration with Chromeo and a surprising Dirty Projectors cover. Her newest release, 'Losing You,' has a lush, tropical, laid-back groove, courtesy of Blood Orange's Dev Hynes (chek out the visually stunning video). While Cyril Hahn's prevous remixes of R&B hits certainly are intriguiging (listen to 'Touch My Body' and 'Say My Name') this is his best remix to date. The Swiss/Canadian DJ heavily filters Knowles' vocals and alters the pitch to create the sound he is known for and yet he maintains a dance-ability on this track with it's percussion and electronic elements, a quality I found lacking in his previous efforts.
Toddla T vs. Scissor Sisters – 'I Kiki (Feat. Spank Rock & Rye Rye)'
The Scissor Sisters' 'Let's Have A Kiki' needs no introduction. In fact, if you're looking for a remix that is anything similar to the original then this is not the track for you at all (I recommend the 2 Bears or Nita Aviance remix in that case — both are valiant efforts for a somewhat impenetrable tune). Instead, wunderkind producer Toddla T, famous for remixing Róisín Murphy's 'You Know Me Better' as well as Ladyhawke and Hot Chip, has teamed up with hip hop sensations Spank Rock and Rye Rye to create an in-your-face, hard-hitting club banger that turns the concept of the original "Kiki" on its head. This is a fierce tune that is not for the faint at heart. It won't be everyone's cup of tea but it certainly is mine. In fact, I'll take two.
OCCUPY THE DISCO (OXD) curates and recommends music events to the gay community in NYC—in an effort to move the focus of the nightlife scene beyond the promoter and venue and to the music itself. OXD's goal is to educate, entertain, engage and empower the gay audience to reclaim their ability to question and experience the unknown. The OXD Mirror will serve to showcase tunes that are definitely off-the-beaten-path but rightfully deserve the attention of the gay ear. It's music that will make you dance, dream, and most importantly, love.
This week's post was written and curated by Ru Bhatt. Check out more of his music picks on his podcast, The Ru-Mix.

For more information on OXD, check out our website and accompanying blog at www.occupythedisco.com, like us on Facebook, or follow us on Twitter: @OccupyTheDisco.