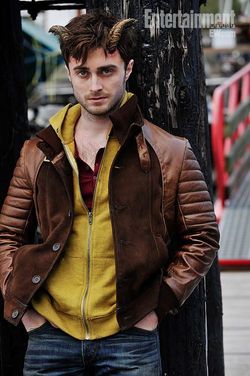 PHOTO OF THE DAY: Daniel Radcliffe gets horny. 
BY SAM GREISMAN
A look back at today's big stories
**
MARRIAGE EQUALITY
As we wait for word from the Supreme Court regarding their decision about the DOMA and Prop 8 cases, Ari Waldman takes a look at where we stand with the Defense of Marriage Act. There is a marriage equality referendum on the ballot in Washington State and a group of straight allies are speaking out in support of it! In other good news a new poll shows that Latino support for gay marriage is on the rise!
**
GAY ADVOCATES
Vikings player Chris Kluwe has been an outspoken (and rather witty) supporter of gay rights. Check out some snippets from his cover of this month's Out magazine. 
Travel website Expedia recently came out with their public backing of marriage equality. Well now they have released a very moving ad featuring one father's journey to accept his gay daughter. 

**
WINGNUTTERY
In rather horrifying news a gay couple in Texas woke up to a hateful and homophobic threat painted on their front porch. Really disgusting. 
Chick-Fil-A CEO Dan Cathy just won't go away. He recently did an interview with a local Atlanta news station in which he babbled on and on about "biblical families".
**
VIDEOS OF THE DAY
Ever wondered what your brain looks like when you're stoned? Now you know. A video in which a local news reporter took down a nasty bully has gone super viral.