BY SAM GREISMAN
A look back at today's big stories
SPECIAL ANNOUNCEMENT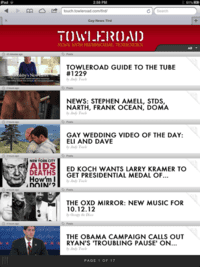 Over the weekend we launched Towleroad in mobile-optimized versions for the iPad, iPhone, and Kindle. Also available is Android access via Google Currents.
Some of you have emailed us to express a general unease with transitioning to a mobile format. We have listened, and on iPad there is now a prominent button for those of you who prefer reading the site in a traditional fashion. On the iPhone you can access it via a pull-down menu in the upper right.
We hope to continue making improvements to these sites and thank you for your input!
ELECTION 2012
The second Presidential Debate is tomorrow and as we move toward some three weeks to go until election day, New York Times election forecaster Nate Silver is "a little terrified" by the current state of the polling data. One of Romney's aides appeared on Fox News yesterday and may have been surprised when Chris Wallace challenged him on Romney's illogical tax math!
Also, things that are narrated by Morgan Freeman are usually awesome. Good news for the Obama campaign because he is doing the voiceover for a recent ad. And if you can't wait until tomorrow to see some more debate action, check out round two of Mitt Romney debating himself .
**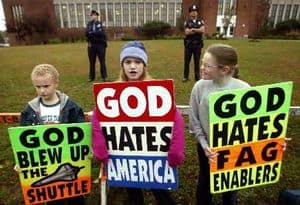 WINGNUTTERY
A Westboro Baptist Church member was doing his incredibly classy thing and protesting the funeral of a gay service member when he was tackled to the ground. Check out the video here!
**
GAY NEWS
Insanity Fitness Trainer (and former Mariah Carey back-up dancer) Shaun T came out over the weekend AND got married to his boyfriend! Also check out this adorable I Have Two Fathers video. What a cute family!
Good news on the marriage equality front in Washington State where a whole bunch of corporations have signed on to a new ad support Referendum 74 in the Seattle Times. 
**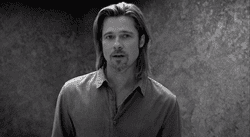 ENTERTAINMENT
An openly gay contestant on the UK's X-Factor is eliciting both love and hate after this very flamboyant performance on the show. I like his gold dress. Also does anyone else find Brad Pitt's new Chanel commercial kinda cringeworthy?
**
VIDEO OF THE DAY
So daredevil Felix Baumgartner did an incredibly insane and possibly stupid thing and dove to the earth from space this weekend. He lived (somehow!) and the video from his helmet is totally nuts! It might also make you pretty dizzy. P.S. – There's already a Lego version.