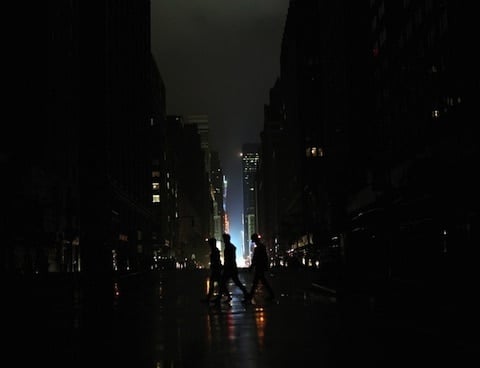 Here's a recent dispatch from Gothamist on the situation downtown in NYC:
Jonathan Maimon lives in Downtown Brooklyn, where he commutes to his job as a associate portfolio manager for a mutual fund based in Jersey City. Maimon spent six years in Manhattan and calls it "a place that I'm pretty close with emotionally," which is why he made a meandering five-hour, 12 mile run across Lower Manhattan to survey the damage. Based on what he saw, he thinks that perhaps the city is moving on too quickly.
"There were no Red Cross vehicles, not a lot of city vehicles around to reach out to people and ask them what services they needed," Maimon says. "It was just pedestrians walking around and exploring. People were very calm, very friendly, you know how people are in New York. But what was shocking is that there was no food. Nothing was open. And then they have to go home to apartments without power."
Maimon adds, "And the most serious thing to me is elderly or disabled people in high rise buildings—this affects you if you're rich or poor. There's not a lot of ways for them to get out safely. I'm kinda worried about the city not really knowing how many of those people are out there." That's why he wrote this letter to us. "The mayor just said that the worst of the storm was behind us, which is factually true," Maimon adds. "But I personally think the worst is yet to come. Not having power is going to wear people down."
Here's a recent update courtesy of New York City council candidate Corey Johnson on what's happening in NYC with regard to outages and services cut by Hurricane Sandy:
ConEd says power to be restored to all customers within 3 days. Still extremely unreliable cell service in Lower Manhattan or Dumbo. Texting seems to be working though.
Penn South / Mutual Redevelopment Houses in Chelsea has power because it runs off of generators and not ConEd.
The rest of Chelsea below 25th Street, the West Village, Greenwich Village and Soho are still without power.
Hell's Kitchen did not lose power. There is a shelter in Hell's Kitchen at the High School of Graphic Arts if anyone needs supplies, food, water or a charge for their phone.
The Greenwich Village Halloween Parade has been postponed.
There is severely heavy traffic throughout the city because of the subway remaining shut down. Walking may be faster than taxis or livery cabs.
All East River Bridge crossing are open but the traffic is atrocious.
The Brooklyn-Battery, Queens-Midtown and Holland Tunnels remained closed on Wednesday. The Lincoln Tunnel is open.
New York City Buses: Bus service is free and will operate as close to a normal weekday schedule as possible on Wednesday, the Metropolitan Transportation Authority said.
As of 7:30 a.m., every bus line on the M.T.A.'s Web site was showing as either "delayed" or "service changes."
New York City Subway: Limited service begins Thursday. No subways south of 34th St. A 'bus bridge' will connect Manhattan and Brooklyn. Other details to come.
Three of the seven East River subway tunnels have been pumped and are free of water.
Taxis and Livery Cars: Taxis are allowed to pick up multiple passengers at multiple points. Livery cars can be hailed in the street.
Ferries: East River Ferries will not run on Wednesday. Some ferry service between New Jersey and Manhattan resumed Wednesday morning. Staten Island Ferry service remains suspended.
Airports: Newark Liberty International Airport opened at 7 a.m. and Kennedy International Airport was expected to be operating by noon. AirTrain remains closed at JFK. Travelers are advised to check with their airlines before heading to the airport, as many were still operating on a limited basis. La Guardia Airport remained closed after sustaining damage with no set timeline on when it will reopen.
Long Island Rail Road: Limited service starts at 2 PM today.
Metro-North Railroad: Limited service starts at 2 PM today.
New Jersey Transit trains: All lines remain suspended.
New Jersey Transit buses: Service remains suspended with the exception of limited service in Camden County only.
PATH Train: Closed and Governor Christie says restoration could take between 7 and 10 days. The tunnels from Manhattan to NJ were completely flooded.
Tram: The Roosevelt Island Tram is fully operational since yesterday afternoon.
Parking: Alternate Side Parking suspended Wednesday and meters are suspended as well.
Limited Access-a-ride service on Wednesday but likely heavy traffic and delays.
President Obama is touring Atlantic City with Governor Christie this afternoon.
New York City schools remained closed today.
The New York Stock Exchange opened this morning.
The New York Public Library remains closed on Wednesday.
All New York City Parks remained closed.
New York Federal Courts in Manhattan is closed Wednesday.
New York State Courts are open in the Bronx and Queens – are open in Brooklyn with the exception of Red Hook. Mostly closed in Manhattan and mostly closed on Staten Island.
The New York City Marathon is currently scheduled to still take place on Sunday.
Death toll in the US rises to 59 from Hurricane Sandy – 29 of those occurred in New York State.
To volunteer to help the city clean up please email nycservice@cityhall.nyc.gov