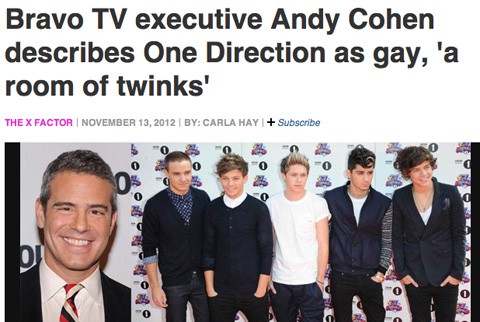 You can tell the election news cycle is over when…
An actual story/outrage making headlines this week:
Appearing on the Today Show just hours after Harry Styles and co had performed in front of their thousands of fans who had queued for days to see them, Cohen recalled the moment when he saw the band in the green room.
He said: "This morning, I went into the normal green room that we typically go into. I barged in, there are all these people in front of us. Oh, it's all the leftover One Direction fans. I barged right into a room of twinks: One Direction! Security was not exactly too tight, with all due respect. I barged right in. It was crazy!"
The term "twinks" is said to be a slang word for young gay men and is deemed to be offensive and derogatory.
……
Taking to his Twitter page after reportedly getting tweets from One Direction fans who were unhappy with his comments, Cohen apologised saying: "Misused word earlier — I just meant they're cute. #1D" But he has left his tweet from earlier still on his official page.