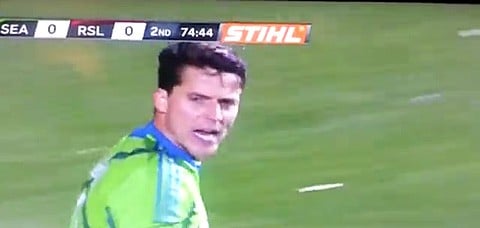 Seattle Sounders defender Marc Burch was suspended for three games, ordered to attend sensitivity training, and fined an undisclosed amount by Major League Soccer after a camera caught him mouthing a homophobic slur during a game against Real Salt Lake last week, SB Nation reports:
With MLS involved in a television campaign aimed at stopping racism, sexism and homophobia, it would have been a huge surprise had Burch got away without a ban. The suspension means that the 28-year-old will miss both legs of Seattle's conference final against the LA Galaxy, as well as the MLS Cup Final itself should the Sounders make it that far.
Burch issued an apology for the slur:
"I apologize for my horrific choice of words last night during our match. This is something that is inconsistent with my family values and because of that I am both disappointed and embarrassed by my level of poor judgment. I take seriously my role as a leader in the community and this is completely regrettable and unacceptable. Character matters and I hope through hard work on and off the field to begin earning your respect and trust again."
Watch the moment that got Burch in trouble, AFTER THE JUMP…