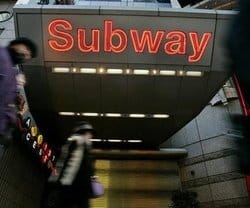 It may still be weeks before New York City's subway tunnels damaged by Hurricane Sandy are completely restored, but Gov. Andrew Cuomo today announced that select lines, all above 34th street, are back in operation and free for the next few days.
The free service began just after midnight Thursday and will last
until 11:59 p.m. on Friday, and will allow for free rides on the NYC
Subway and Bus network, Long Island Rail Road, and Metro-North
Railroad.  Free travel will also be available on Access-a-Ride.
 
"The
gridlock we experienced yesterday shows that the New York metropolitan
region is in a transportation emergency," Governor Cuomo said. "To get
people out of their cars and onto mass transit, I immediately authorized
the MTA to suspend transit fares through the end of the work week."

The fare free days coincide with the restoration of limited subway
service set for this morning along segments of roughly half of the
system's 26 lines.  With no electricity to power the third rail or to
operate signals south of 36th Street, there will be no service between
34th St in Manhattan and Downtown Brooklyn. Service will operate from
the Bronx, Queens and Upper Manhattan to Midtown and from Queens and
parts of Brooklyn to Downtown Brooklyn. 

Shuttle Buses will operate from
Jay St-MetroTech, Atlantic Ave-Barclays Center in Downtown Brooklyn and
Hewes St in Williamsburg to 57th St & Lexington Ave via 3rd Ave.
Or there's always walking, which actually doesn't take that long and gives you a great view of the city.
[via Joe]