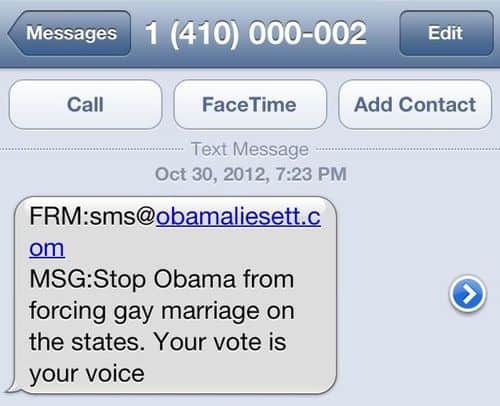 Earlier this week, an advertising company with ties to the Republican Party sent out text messages reading "Stop Obama from forcing gay marriage on the states." These messages, sent as texts from an email address, go around existing Federal Communications Commission rules limiting unsolicited texts, and now Human Rights Campaign is calling for a full investigation.
From Chris Geidner at BuzzFeed:
The company, ccAdvertising, has not admitted to sending the messages. But the dummy sites used to send the messages were registered to company executives.

Additionally, one of those executives — Gabe Joseph — is known for using questionable tactics, according to Republican operatives familiar with his past activities.
…
Although there are rules against sending unsolicited, traditional SMS messages, because they were technically emails, they fall outside current FCC regulations. An FCC spokesperson told BuzzFeed that, for now, the "question is open in front of the Commission."
In addition to calling out the operation's legally hazy tactics, HRC is accusing them of intentionally sending out misleading messages, which HRC lawyer Robert Falk equates with "an attempt to defraud and harm gay-rights advocates."
Fred Sainz, HRC's vice president of communications, said "it's unsurprising that our opponents are employing such underhanded tactics and trying to attack equality from behind shrouds of secrecy."
"It's unacceptable to launch these types of despicable attacks from dark corners, and it's incredibly irresponsible to send out unsolicited messages to people who have no desire to receive this type of vitriol," he said.
Read HRC's entire complaint AFTER THE JUMP.