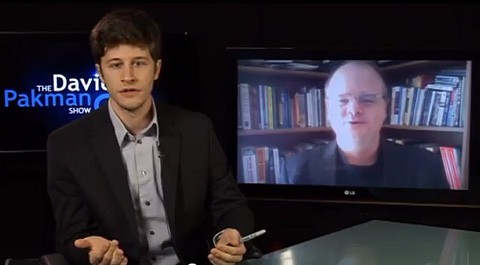 Radio host David Pakman welcomed anti-gay activist and former Navy chaplain Gordon Klingenschmitt on to his show to get his reaction to the marriage equality wins in the past election.
Said Klingenschmitt:
"I think this confirms something that Jesus said – that broad is the road that leads to destruction and many enter into it. But narrow is the road that leads to eternal life and only a few find it. So I wouldn't be surprised if most people in America voted against God and against God's values if that wasn't a confirmation of something that Jesus predicted would come in the End Times, that there would be a massive rebellion against God, that people would turn to Satan, that people would have all kinds of sin and embrace sin as the law of the land. I'm not surprised that this is happening eventually. I'm just saddened that it's happening so soon to America."
Watch, AFTER THE JUMP…
In related news, Klingenschmitt also made the rounds to City on a Hill radio, where he discussed Sen. Al Franken's Student Non-Discrimination Act as well as gay adoption and equality in the military, Right Wing Watch reports.
He warned that the Obama administration will soon allow gay and lesbian service members in relationships to collect "homosexual bonus pay" and "homosexualize base houses" and "have gay pride parades on the flight line" on air force bases. Klingenschmitt went on to maintain that gay couples adopting children are committing "child abuse" and only adopt with the goal of "recruiting them into the homosexual lifestyle." "That's why they're trying to get into our kindergarten books and trying to take over our public schools and homosexualize our public education so that they can recruit children into homosexuality and maintain their pool of available sex partners for their own progeny," he said, "which is our children that they are stealing and warping their minds."
More on that here.