Former Democratic state senator Kyrsten Sinema has officially won her Arizona congressional race, the AP reports: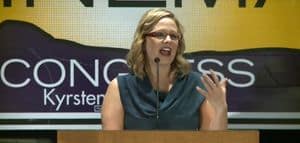 Sinema had a narrow lead on election night that made the race too close to call. But she slowly improved that advantage as more ballots were tallied in recent days, and now has a nearly 6,000-vote edge that is too much for Republican Vernon Parker to overcome.
Parker, who took the national stage briefly in September when he gave the GOP weekly address, was criticized by Democrats as a tea party radical who would hurt children by cutting the federal education department.
Sinema is the first openly bisexual member of Congress.