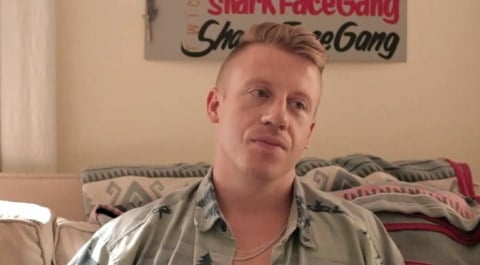 Yesterday Andrew reported on performing arts teacher Susan Johnson, suspended from South Lyon's Centennial Middle School in Michigan for letting a student play Macklemore and Ryan Lewis' pro-equality anthem "Same Love" in class.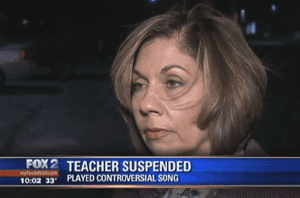 Wrote Macklemore on his website:
I believe that Ms. Johnson getting suspended is completely out of line and unjust.  However, I think it's important for moments like these to be exposed and for us to pay attention and respond.  This level of intolerance and fear is still very active in America, but at times is not completely visible. This incident is just one of tens of thousands that have happened across the country where schools have exposed a latent homophobia, preventing safe space for all young people to feel confident in being themselves. It's clear that Ms. Johnson felt bullying and "gay bashing" were issues that needed to be addressed, and by doing so, was punished.
I wrote the song "Same Love," not with the expectation that it would cure homophobia and lead to marriage equality across the US (although that'd be awesome).  It was written with the hope that it would facilitate dialogue and through those conversations understanding and empathy would emerge. This incident demonstrates how too often we are quick to silence conversations that must be had. Even if people disagree, there is far more potential for progress when people are vocal and honestly expressing their thoughts about gay rights.  When we are silent and avoid the issue, fear and hatred have a far greater life span.
It's discouraging that a song about love and civil rights has led to a teacher getting suspended from her job.  But that's where we are at. For those of us who get a pit in our stomach when reading a story like this, it just makes it abundantly clear there is far more work to be done.
The school is standing by its decision to suspend Johnson.
In related news, 'Jabari Presents' produced an excellent documentary about Macklemore & Ryan Lewis which he filmed as they shot their infamous "Thrift Shop" music video, and prepared for the release of "The Heist".
Check it out, AFTER THE JUMP…