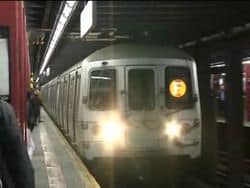 Many feared it would be a few weeks before inter-borough travel would be restored in New York City post-Sandy, but we received some good news today.
Even though it may be a while before things get back to normal, Governor Cuomo and the MTA today announced some revived service, bringing operation up to about 80%.
From the NYDN:
Trains started picking up passengers again Saturday morning along the
entire 4,5,6 and 7 lines, officials said. Full service will return later
Saturday to the D, F, J and M lines, officials said.

The A train will run from 168 St. to Lefferts Blvd. beginning Monday
but service to the Rockaways will not return for at least a month
because the train bridge over Jamaica Bay was severely damaged.
Those of you in Williamsburg will still have to wait, as well, for the 14th Street L line remains flooded.