Citizens for Responsibility and Ethics in Washington is calling on the IRS to investigate Catholic Bishops like David Jenky who use their pulpit to influence elections.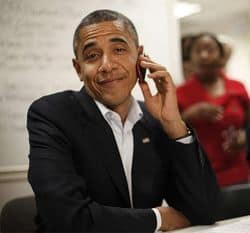 This picture of President Obama
was taken at a campaign office in Florida right after he realized he
had dialed the wrong number. "Hi is this Ann? Hi, is this Ann? Oh, I'm
sorry, I must have the wrong number," he said. I wonder if the person on
the other end recognized his voice.

DC's High Heel Drag Race happened and it was glorious.

Stuart Milk, nephew of slain activist Harvey Milk, wrote a piece in The Advocate called "The Only Choice in this Election When You're Jewish and Gay". You should read it.

GOP Minnesota Senate staffer Bob Koss was fired after harassing fellow Republican Rep. John Kriesel's appearance in a pro-marriage equality advert. "Just saw the @johnkriesel gay
marriage ad. Really glad the RINO [Republican In
Name Only] will be leaving the legislature. #mnleg & good
riddance," he tweeted at Kriesel, a veteran who lost both legs in Iraq.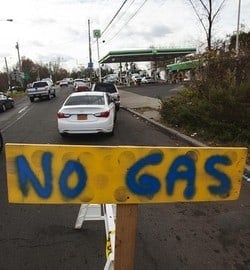 New York and New Jersey are still coping with a gas shortage post-Sandy.

On reality television and LGBT people: "Although it is routinely dismissed as trash, the reality genre has
developed a reputation for diversity that scripted television hasn't
been able to match, especially when it comes to the inclusion of gays
and lesbians. This consistent and constantly growing — if not always
flattering — representation across nearly all networks has helped
humanize gay people for mainstream America, according to gay rights
organizations."

Kirstie Alley is still in love with John Travolta.

Bradley Cooper and his dreamy locks on the red carpet.

There is a Boy Meets World sequel series in the works. It is going to be called Girl Meets World.

Nick Denton and Gawker's masterful lawyers are not about to let Hulk Hogan take them down in court.

Gay Pakistanis are starting to peer out of the closet. From The NY Times: "The group is invitation only, by word of mouth. Members communicate
through an e-mail list and are careful not to jeopardize the location of
their meetings. One room is reserved for 'crisis situations,' when
someone may need a place to hide, most often from her own family. This
is their safe space — a support group for lesbian, gay, bisexual and
transgender Pakistanis."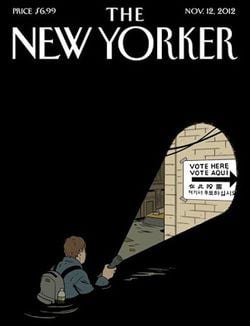 The New Yorker covers the blackout.

Vice President Joe Biden says GOP presidential nominee Mitt Romney loves the end of Daylight Savings Time tonight because "he gets to turn the clock back". "He wants to turn back that clock so desperately — this time he can
really do it, tonight it happens. I'm going to get in
trouble, but I tell you, man," said Biden in Colorado.

The debate over marriage equality in Minnesota is pitting Catholic against Catholic. "As Minnesota's gay marriage vote draws near, the divide between Minnesota's Catholic hierarchy and some churchgoers gets starker. Minnesota's Roman Catholic Church has donated heavily in support of the proposed ban and called on members to support it, leaving gay-friendly Catholics in an increasingly tough position," reports Patrick Condon.