President Obama has nominated, for the first time, a lesbian Latina judge to the federal bench, the Washington Blade reports: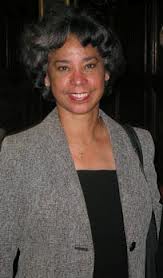 The White House announced on Tuesday that Obama named Nitza Quiñones Alejandro as part of a group of three nominees to sit on the U.S. District Court for the Eastern District of Pennsylvania. According to the Human Rights Campaign, Quiñones is a lesbian and was recommended by Sen. Bob Casey (D-Pa.).
According to a bio provided by the White House, Quiñones already serves as a judge on the Philadelphia County Court of Common Pleas, where she has presided since 1991 over both civil and criminal matters. Before that, Quiñones worked as a staff attorney for the Department of Veterans Affairs and as an attorney advisor for the Department of Health & Human Services.
Pat Toomey (R-PA), a Tea Party Republican, joined Casey in praising Quiñones: "In her 21 years on the bench, Nitza Quiñones Alejandro has presided over many cases incorporating different facets of the law. In addition to her extensive experience in the courtroom, she has also remained active in her community through her work with schools and mentoring summer law interns."