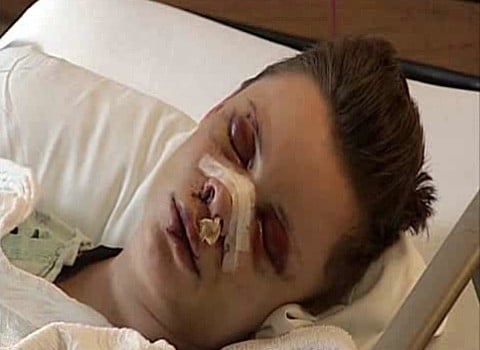 Earlier today I posted about the horrific assault on 23-year-old Mallory Owens from Mobile, Alabama, who was beaten within inches of her life by Travis Hawkins Jr. Hawkins' sister is Owens' girlfriend.
Owens had been invited to Thanksgiving by the family, who was "trying to be nice," according to Owens' mother. It's not the first time that Hawkins has attacked her:
Earlier this year, family members tell News 5 that Travis Hawkins Jr. hit Mallory over the head with a pipe wrench. She was injured, but the family did not pursue charges after that incident.
D.A. Ashley Rich claims they have no reason at this time to declare it a hate crime. Hawkins Jr. is free on bond.
Watch WKRG's video report and interview with the family, AFTER THE JUMP…
EARLIER…
Alabama Lesbian Brutally Beaten by Her Girlfriend's Brother in Alleged Thanksgiving Day Hate Crime [tlrd]