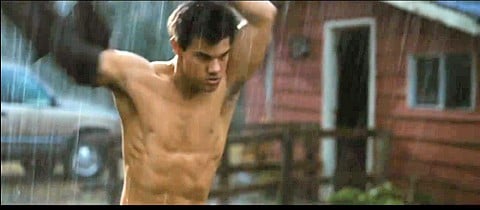 Now that the Twilight saga is reaching its end, some industrious and horny soul has collected the shirtless moments from the first films and put them into one video.
Watch, AFTER THE JUMP…
The last flick in the series topped the box office over the weekend:
The final "Twilight" movie arrived in North America in time for the weekend — the gooey end of an era for some, not a moment too soon for others — and took in an estimated $141.3 million. Made for about $120 million by Lionsgate's Summit Entertainment, "The Twilight Saga: Breaking Dawn — Part 2" was easily the No. 1 movie in the land (including overseas, where it took in an additional $199.6 million). Still, it did not smash opening-weekend records, as some analysts had hoped; adjusting for inflation, "The Twilight Saga: New Moon" sold $154 million in tickets in November 2009.
(via afterelton)