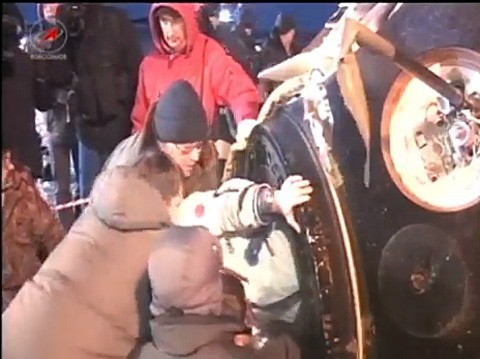 More space news. Three of Earth's citizens are back after a four-month sojourn in space aboard the Russian craft Soyuz:
Expedition 33 Commander Sunita Williams of NASA, Flight Engineer Akihiko Hoshide of the Japan Aerospace Exploration Agency and Russian Soyuz Commander Yuri Malenchenko undocked their Soyuz TMA-05M spacecraft from the space station at 4:26 p.m. CST and landed north of Arkalyk, Kazakhstan, at 7:56 p.m. (7:56 a.m., Nov. 19, Kazakhstan time). The trio arrived at the station July 17 and spent 127 days in space, 125 of which were aboard the orbiting laboratory. This was the first pre-dawn landing in darkness for a station crew since April 9, 2006, when Expedition 12 crew members returned.
Watch (human extraction begins at 5:30), AFTER THE JUMP…
Expedition 33 advanced the scope of research aboard the station by conducting a wide range of physical science, Earth observation and technology demonstration investigations. Research included testing radiation levels on the orbiting outpost, assessing how microgravity affects the spinal cord, and investigating dynamic processes on Earth, such as melting glaciers, seasonal changes and human impacts on the ecosystem.
The crew also participated in the Integrated Resistance and Aerobic Training Study-Sprint, which evaluates the use of high-intensity, low-volume exercise training to minimize loss of muscle, bone and cardiovascular functions during long-duration missions. The expedition also managed a number of visits by international and commercial spacecraft, including the first contracted commercial resupply flight by SpaceX, and conducted several challenging spacewalks to sustain the productive operation of the orbiting complex.