A spate of dolphin mutilations and killings in the Gulf of Mexico has authorities alarmed, the Sun Herald reports: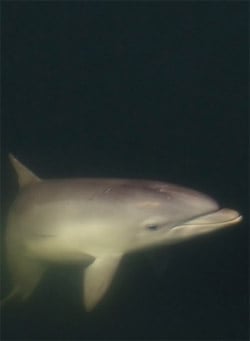 Last weekend, IMMS responded to a dead dolphin found along the Ocean Springs/Gautier coastline with a 9mm bullet wound. "It went through the abdomen, into the kidneys and killed it," said Moby Solangi, IMMS executive director.
In Louisiana, a dolphin was found with its tail cut off.
"Animals don't eat each other's tails off," Solangi said.
"We think there's someone or some group on a rampage," he said. "They not only kill them but also mutilate them."
IMMS investigated the first dolphin shooting earlier this year and incidents have increased in the past few months. In Alabama, someone stabbed and killed a dolphin with a screwdriver, according to a National Oceanic and Atmospheric Administration press release. In September, a dolphin was found on Elmer's Island, La., with a bullet in its lung. Others have been mutilated with knife-like lesions.
NOAA on Thursday issued a "heads up" directive for environmental and enforcement agencies to be on the lookout for human-interaction dolphin strandings.
The Marine Mammal Protection Act of 1972 places a $100,000 fine and one year in jail on anyone found harassing, harming, killing or feeding wild dolphins.
(via americablog)