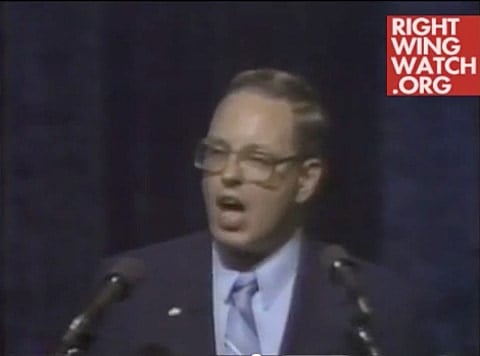 Right Wing Watch pulls up this video of arch-conservative Paul Weyrich to explain why the right-wing engages in voter suppression. It was shot 30 years ago, and the story hasn't changed since:
The media frequently reports on right-wing and GOP voter suppression efforts, but they rarely acknowledge the root cause – Republicans do better when fewer people vote. This is the driving force behind the GOP's draconian voter ID laws and efforts to limit early voting, voter registration drives, and provisional voting.
 
The right wing and GOP have whipped up hysteria around voter fraud, which is virtually non-existent, in order to justify roadblocks to voting for millions of Americans. I'll let Paul Weyrich explain why.
 
Weyrich is widely regarded as the "founding father of the conservative movement." He founded ALEC and co-founded the Heritage Foundation, Moral Majority, Council for National Policy, and Free Congress Foundation, among others.
"I don't want everybody to vote," says Weyrich in the video.
Watch, AFTER THE JUMP…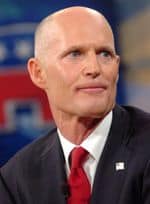 This is exactly what's happening in Florida right now, as you may have read:
Early voting is supposed to make it easier for people to carry out their constitutional right. Tuesdays are notoriously inconvenient to take off work, so many states have given voters the option of turning out on weekends or other weekdays in the run-up to Election Day.
But in Florida this year, it has been a nightmare for voters, who have faced record wait times, long lines in the sun and a Republican governor, Rick Scott, who has refused to budge and extend early voting hours.
"People are getting out to vote. That's what's very good," said Scott.
People are getting out to vote — but many of them are having to wait in line for three or four hours to do so. One contributor to DailyKos claimed it took 9 hours to vote.
Charlie Crist has called it for what it is: "indefensible" voter suppression.