UN Ambassador Susan Rice holds a stake in TransCanada, the company seeking an American permit to build the proposed the Keystone XL pipeline, the NYT reports: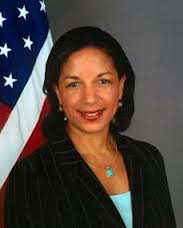 According to financial disclosure documents filed in May, Ms. Rice owns from $300,000 to $600,000 worth of stock in the Canadian pipeline company. Because the State Department oversees transboundary pipelines, the Secretary of State is ultimately responsible for determining whether Keystone XL should go forward.
But her stock holdings in TransCanada,  first reported by the Sunlight Foundation and Onearth.org, an environmental publication affiliated with the Natural Resources Defense Council, would surely complicate the issue.
According to the United States Office of Government Ethics, federal law requires executive branch employees to be recused from matters "if it would have a direct and predictable effect on the employee's own financial interests or on certain financial interests that are treated as the employee's own."
Congressional Republicans are no doubt salivating.
The WaPo published a lengthy profile on Ms. Rice yesterday, noting that "every little thing about the 48-year-old Rice matters now that she's the presumptive front-runner to replace Hillary Rodham Clinton as secretary of state."