PHOTO OF THE DAY: The loss has hit Romney hard. 
BY SAM GREISMAN
A look back today's top stories
POLITICS
As the violence continues in Israel today, Rachel Maddow took a look at the GOP's lack of leadership when it comes to foreign policy and really lets them have it. In Florida anti-gay GOP Rep. Allen West has finally acknowledged what the rest of the world already knew; that he lost. 
Our Ari Waldman discusses a recent Sixth Circuit Court of Appeals ruling on Michigan's ban on affirmative action and how it relates to our battle for marriage equality. Speaking of that, a man in Arizona has signed paperwork with the intent of getting marriage equality on the ballot in that state. 
**
WINGNUTTERY
Russell Brand had two members of the Westboro Baptist Church on his show last night and in the shock of all shocks, couldn't really get through to them. Speaking of hatemongers, AFA's Bryan Fischer is still standing by the notion that exorcisms can cure homosexuality.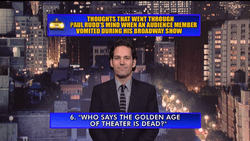 **
ENTERTAINMENT
Anderson Cooper had Hoda and Kathie Lee on his show today and they helped fill his crack. Paul Rudd tells David Letterman and all of us what it was like to have someone barf all over everyone during his show. Also Eric Stonestreet clarifies the myth that he was drunk at the AMAs. 
With a second accuser now coming forward Kevin Clash, the voice of Elmo, has resigned from Sesame Street. And an Italian handball player used a kiss to really get under his opponent's skin.
** 
VIDEO OF THE DAY
Wondering what to do with your big pile of autumn leaves? Check this out!