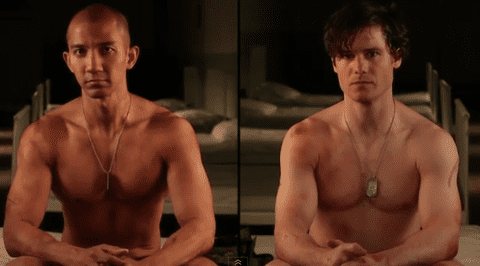 In honor of Veteran's Day, Freedom to Marry and OutServe-SLDN today released a video called "Second Skin," a visual representation of how gay and lesbian soldiers, though allowed to be out, continue to be discriminated against under the Defense of Marriage Act.
[On Veteran's Day], we remember all who have served our nation so honorably; but we reserve a special remembrance for all those who have provided the same service, taken the same risks, and made the same sacrifices to keep us safe, yet are treated as second-class citizens by the country they are sworn to protect," said veteran and OutServe-SLDN executive director Allyson Robinson in a press release. "The video we are releasing today depicts that stark reality painfully well."
Evan Wolfson from Freedom To Marry said the video "viscerally captures the cruelty of treating gay soldiers and their families as second-class citizens under DOMA — the psychological pain of inequality, on top of physical scars born of service to our country." Because DOMA prohibits federal recognition of same-sex marriage, gay and lesbian soldiers continue to lag behind their straight colleagues in terms of benefits, including health care for their spouses.
With like-minded activists behind them, Freedom to Marry and OutServe-SLDN hope to finally end this institutionalized discrimination, and Wolfson remains optimistic that shifting popular opinion will only bolster future legislative and judicial wins on this front.
"Following an election in which voters embraced the freedom to marry like never before, members of Congress and justices of the Supreme Court can have confidence that when they do the right thing, it will not only stand the test of time, but be true to where the American people already are," he said.
Watch "Second Skin" AFTER THE JUMP.