Former PLO leader Yasser Arafat's body has been exhumed in the West Bank city of Ramallah and reburied in order that it be tested to determine whether he was killed by poisoning.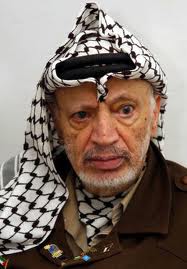 The NYT reports:
Mr. Arafat became ill in October 2004 after being confined under an Israeli Army siege and virtual house arrest for more than two years in the compound where he is buried. At the time, the area was seething with the violence of the second Palestinian intifada, or uprising, and the Israeli clampdown.
He was flown by helicopter out of his headquarters and transferred to a French military hospital, where he died about two weeks later of unannounced causes.
The Guardian adds, of today's exhumation:
Before dawn, Arafat's remains were finally reached. A Palestinian doctor and foreign forensic experts looked at the state of the corpse and decided against attempting to remove the whole thing. The Palestinian doctor instead took only samples, which were moved to a mosque where they were prepared for examination by international teams from France, Russia and Switzerland. This time, the streets and rooftops around the Muqata were abandoned – although that did not mean there was no interest.
Many ordinary Palestinians have long believed Arafat was murdered by Israel, but they are divided over whether that warrants digging him up.
"He should have been left alone," said Munir Jaara at a coffee shop close to the Muqata. "We all know the Israelis killed him so what's it going to prove to disturb his body? It's disrespectful."
Ghada Nayfeh differed. "We need to find the truth. It was very suspicious how he died, just like that, under siege from the Israelis," she said.
There have also been rumors over the years that it was AIDS which killed him.