A behind-the-scenes look at how marriage equality was won at the ballot!

Do you think Helena, Montana needs an anti-discrimination ordinance. Vote here.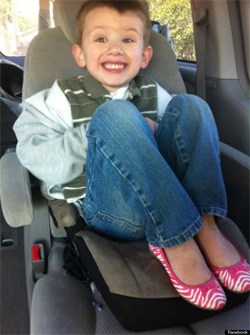 Facebook photo of 5-year-old who wants to wear pink shoes to school sparks viral debate.

Ian McKellen: I have prostate cancer.

Depeche Mode sign with Columbia Records, ready new album for March.

Great profile on Edie Windsor and the DOMA case in the NYT: "It's thrilling for me to be in this position," she said at the eighth-floor apartment on Fifth Avenue just north of Washington Square that she and Ms. Spyer shared for three decades. "It's almost a deliriously joyous thing for an old lady."

Beyoncé signs $50 million deal with Pepsi, will appear on can.

Bill de Blasio's wife Chirlane McCray reflects on her lesbian past: "When I think about how young I was, what the world was like in 1979, I'm proud at what I was able to do. I was able to project my voice and claim my space in the world," McCray said. "I hope young people struggling with their identity try to take heart from that. That was 33 years ago. The world has progressed a great deal."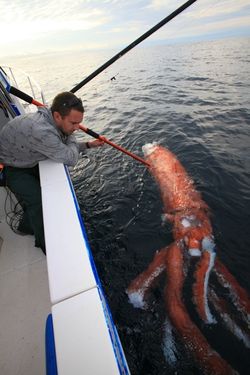 Living giant squid caught on video for first time (not photo).

Christina Aguilera responds to suggestive photo of Hillary Clinton staring at her boobs: "It was mutual."

American Idol begins promoting Mariah Carey-Nicki Minaj feud.

VIDEO: Rita Ora's "Radioactive".

How would John Roberts rule on gay marriage cases? Richard Socarides: "If he rules against gay rights now, how is Roberts going to feel about the overturning of this precedent later—or having it overturned while he is still on the Court as Chief? That's not to say public opinion is the only factor here. But the Supreme Court has previously held that marriage is a fundamental right, and sexual orientation, especially when viewed from today's perspective, meets all the requirements for heightened constitutional scrutiny." Flashback: Roberts donated help to Romer v. Evans…

Obamadon: Researchers name extinct lizard after Obama. "It is a small polyglyphanodontian distinguished by tall, slender teeth with large central cusps separated from small accessory cusps by lingual grooves."

VIDEO: Adam Lambert pays a visit to Wendy Williams.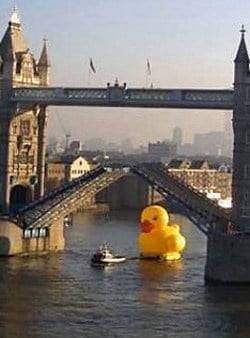 Gigantic rubber duck floats through London.

Justice Scalia's 7 worst anti-gay statements.

Wingnut Matt Barber claims half of gay men were sexually assaulted by pedophiles as children. "When not fighting the 'war on Christmas,' Mat Staver and Matt Barber continue to fight the California law that bans the use of sexual orientation conversion therapy on minors, which they have now taken to calling 'Jerry Sandusky laws' on the grounds that children who are sexually abused will now become gay because they will not be allowed to get therapy to help them deal with the abuse. "

Spice Girls musical set to open in London: "The members of the 1990s girl group – Victoria Beckham aka Posh Spice, Emma Bunton aka Baby Spice, Geri Halliwell aka Ginger Spice, Melanie Brown aka Scary Spice and Melanie Chisholm aka Sporty Spice – are all expected on the red carpet for Tuesday's opening night at London's Piccadilly Theater."