Pfc Bradley Manning's trial, which had been set to begin on February 4, will now begin, at the soonest, on March 16, according to Military judge Colonel Denise Lind, because arguments over his harsh pre-trial confinement are ongoing, the Guardian reports: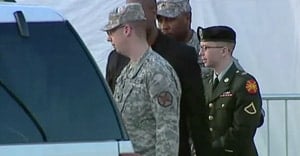 Lind is currently hearing evidence relating to restrictions placed on Manning during a nine month stint in military cells in Quantico, Virginia. Defence lawyers have claimed that the extreme custodial regime he was placed under – which included being confined to a 6ft-by-8ft cell for all but 20 minutes every day and being deprived of his clothes at night – amounted to unlawful pre-trial punishment.
Psychiatrists have testified that the brig commander in Quantico kept Manning under these harsh conditions despite their recommendations to ease them.
During the current sessions, Manning has spoken about the trauma he experienced while incarcerated and the effect that long periods of isolation had on him.
Manning has been under arrest since May 2010 when Wikileaks released a trove of documents containing military and state classified information.