In an effort to remain a viable candidate for Secretary of Defense, former Senator Chuck Hagel apologized on Friday for remarks he made in 1998, criticizing the appointment of James Hormel as ambassador to Luxembourg because of Hormel's "aggressively gay" values: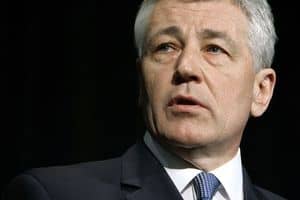 "They are representing America," Hagel said of ambassadors…They are representing our lifestyle, our values, our standards. And I think it is an inhibiting factor to be gay – openly aggressively gay like Mr. Hormel – to do an effective job."
Said Hagel today to Politico, via an aide:
"My comments 14 years ago in 1998 were insensitive. They do not reflect my views or the totality of my public record, and I apologize to Ambassador Hormel and any LGBT Americans who may question my commitment to their civil rights. I am fully supportive of 'open service' and committed to LGBT military families."
Army veteran and OutServe-SLDN Executive Director Allyson Robinson released a statement in reaction to Hagel's apology:
"We are pleased that Senator Hagel recognized the importance of retracting his previous statement about Ambassador Hormel and affirming his commitment to Don't Ask, Don't Tell repeal and LGBT military families. We look forward to learning more about his commitment to full LGBT military equality as this nomination and confirmation process unfolds."