United Parcel Service will have a lighter load of hate this holiday season as Tony Perkins' Family Research Council announced that they will stop using UPS because they dumped the Boy Scouts over its discriminatory anti-gay policies.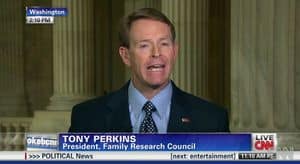 Writes the FRC:
In this busy shipping season, UPS will have at least one less customer to worry about: FRC. After 11 years as our official carrier, FRC is suspending its contract with UPS for openly discriminating against the Boy Scouts of America (BSA). In November, company executives announced that they would no longer support organizations that refuse to bow to their politically correct view of homosexuality. Although Vice President Kristen Patrella insisted UPS's decision didn't specifically target the Scouts, theirs was the only group affected. UPS promised to end its charitable donations to the Scouts "until gay Scout leaders are welcome within the organization."
According to most reports, the shipping giant altered its policy after an online petition drive at the liberal website, change.org, encouraged companies to end their BSA partnerships. But in the end, the 83,000 signatures it collected is a drop in the ocean compared to the 1,074,775 Americans who volunteered with a troop last year — or the 2.7 million boys who were actual members of the Boy Scouts. Yet they, the overwhelming majority, are the ones for whom UPS has shown the greatest contempt — and whose valuable activities will suffer as a result.