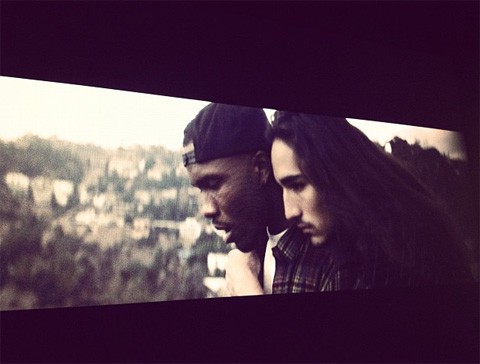 Hip-hop star Frank Ocean is being coy about a photo he posted on Sunday night to his Instagram feed which appears to be a still from a video. The still features French male model Willy Cartier embracing Ocean from behind and has set people buzzing, according to The Hollywood Reporter:
Cartier has reappeared in Ocean's Twitter feed recently, with the singer even going so far as to tease a possible marriage on the horizon: "Marry em, make em American," Ocean tweeted on Sunday morning.
But the new photo of Cartier and Ocean is a little different from the others: Rather than a candid snapshot, it looks to be taken from a movie screen — leading many fans to believe that Cartier has been cast in the next music video from Ocean's acclaimed debut album, Channel Orange, which on Monday was named Spin's Album of the Year.
Responding to the torrent of fan comments that accompanied the photo, Ocean wrote, "Lol y'all are crazy. Remember, everyone goes to the grave. Let me live."