Helena. Montana City Commissioners unanimously passed an ordinance prohibiting discrimination in housing, employment and many kinds of public accommodation based on sexual orientation and gender identity at a meeting for which hundreds turned out, the Billings Gazette reports: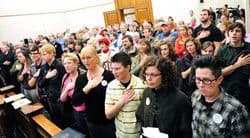 "I believe, and I felt the commissioners believe, that being LGBT is part of the human condition," said Commissioner Haque-Hausrath, the sponsor of the measure, speaking of lesbian, gay, bisexual and transgender people. "It's something that people cannot change, and we believe that people should not be discriminated against because of their sexual orientations."
Some 30 proponents of the measure, including some transgender people, spoke in their allotted hour. Fourteen people spoke against the measure in their hour, with both sides leaving many people still in line when their hour elapsed.
Opponents cited fears of expensive litigation for the city and businesses; inadequate evidence, some said, that anti-gay discrimination is a problem worthy of such a law; and giving what some called "special privileges" to some people at the expense of others.
Eight of the 14 people speaking against the measure mentioned what some called the "bathroom" or "locker room" issue — the concern voyeurs or pedophiles would exploit the protections for transgender people to gain access to women's restrooms or similar areas demanding privacy, or that transgender people themselves would cause alarm in such situations.
An amendment by Commissioner Dick Thweatt passed by the commission Dec. 4 addressed that concern by mandating that in any place where people "ordinarily appear in the nude," users may be required to use the facilities designated for their anatomical sex, regardless of their gender identity.
More at the Gazette…