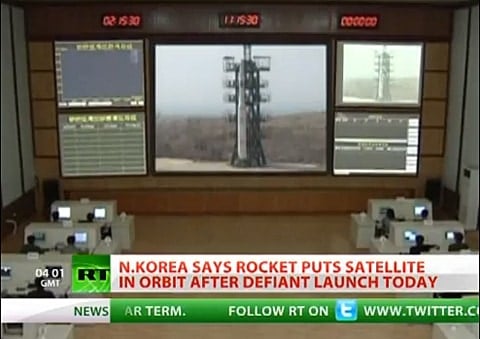 North Korea launched a long-range rocket and claimed to have launched a satellite into space yesterday, in a move that angered the world community, particularly South Korea and Japan, which the rocket's path traversed, NBC News reports:
U.S. officials told NBC News that it appeared the North Koreans had indeed launched an object, possibly a satellite, into space.
In a statement, the White House said the rocket launch was a highly provocative act that threatens regional security and violates U.N. resolutions. A spokesman for U.N. Secretary-General Ban Ki-moon said he "deplores" the launch.
Ban said it was "all the more regrettable because it defies the unified and strong call from the international community." He added that he was "in close touch with the government concerned."
Missile warning systems detected the launch at 7:49 p.m. ET, and initial reports indicate that the first stage fell into the Yellow Sea. The second stage was predicted to fall into the Philippine Sea, according to a statement issued by the North American Aerospace Defense Command.
Pyongyang's official KCNA news agency said earlier that the rocket was fired from the Sohae Satellite Launch Center on the secretive country's west coast, and said that the Kwangmyongsong weather satellite went into orbit as planned.
Watch RT's report and the Japanese and South Korean reaction, AFTER THE JUMP…
The White House has condemned the launch. Said National Security Council spokesman Tommy Vietor:
"North Korea is only further isolating itself by engaging in such provocative acts. Devoting scarce resources to the development of ballistic missiles and nuclear weapons has not brought it security and acceptance by the international community — and never will. North Korea will only truly strengthen itself by abiding by international norms, living up to its commitments and international obligations, and working to feed its citizens, to educate its children, and to win the trust of its neighbors."