Newly-acquired New York Mets pitcher Noah Syndergaard tweeted and then deleted an anti-gay slur, the New York Daily News reports: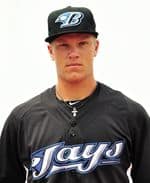 Righthanded pitcher Noah Syndergaard, 20, acquired along with catcher Travis d'Arnaud in the deal that sent the Cy Young Award winner to the Blue Jays, tweets from the account @Noahsyndergaard.
On Dec. 9, this tweet appeared from that account: "@DMarze89 nice crocs f– lol"
The tweet no longer appears on the timeline for the account.
A Mets spokesman said that the team was looking into the matter. The full context of the tweet was not immediately clear; Syndergaard might be available on a conference call introducing him and d'Arnaud on Tuesday.
In September, Toronto Blue Jays shortstop Yunel Escobar received a three-game suspension with lost salary going to GLAAD and anti-homophobia sports group You Can Play for playing with the anti-gay slur "Maricon" painted in his eye black. Escobar was also instructed to undergo sensitivity training.
Syndergaard was acquired from the Blue Jays.