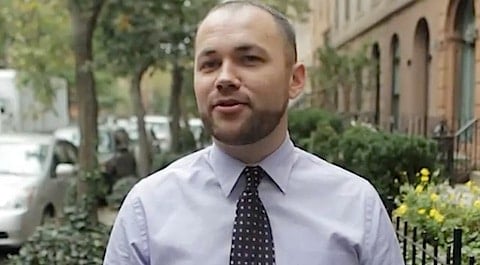 Out NYC City Council candidate Corey Johnson released a campaign video for the 2013 race in which he's running to succeed Christine Quinn.
Johnson will be running against out lesbian Yetta Kurland. Gay City News wrote about the race last week:
"I'm looking forward to a spirited race focused on the issues that affect our neighborhoods and residents of West Soho, the Village, Chelsea, and Hell's Kitchen," he wrote.
Like Kurland, Johnson said he was uncertain whether anyone else might jump into the race, adding, "I'll be running on a long record of service and accomplishments both as an activist and in leading a community board."
Johnson has scrambled to an early lead in campaign fundraising, reporting just under the legal limit of $168,000 in donations, which will allow him to gain the maximum public match of $92,400. According to the city's Campaign Finance Board, Kurland has raised more than $75,000, or about 45 percent of Johnson's private donations. She, too, will be eligible for the city's generous public matching funds program.
Watch Johnson's campaign video, AFTER THE JUMP…
Note: Johnson is Towleroad's former political director. I am a personal supporter of Johnson's race and was named in a list released by the campaign over the summer.