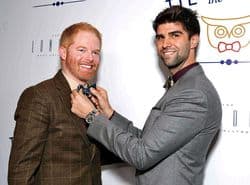 Modern Family actor Jesse Tyler Ferguson and Illinois Lt. Gov. Sheila Simon are planning a fashion-forward action this week to push for marriage equality in The Prairie State.
On Wednesday, they're encouraging voters to call lawmakers and tell them to support marriage equality. Then, on Thursday, they're organizing Bow Tie Lobby Day at the General Assembly to get equality passed before the end of the current session. Supportive lawmakers have vowed to do just that.
More details, from The Southern Illinoisan:
Simon and Ferguson will be joined by marriage equality advocates to encourage Illinoisans to contact their legislators on Wednesday and join a Bow Tie Lobby Day in Springfield on Thursday that urges the General Assembly to pass marriage equality legislation during the January legislative session, according to a news release from Simon's office.

"It is our responsibility to ensure that everyone is treated equally under the law, and right now we have a group of citizens that we are treating as second-class," Simon said. "Bringing marriage equality to Illinois is the right thing to do."

…

"Justin and I are thrilled to be participating in Springfield's Bow Tie Lobby Day. Drawing attention to the importance of marriage equality at this level is exactly why we developed Tie The Knot," Ferguson said. "We are also excited to see how the citizens and legislators of Illinois do with their bow tying skills."
Tie the Knot, for those of you who don't know, is Ferguson and fiance Justin Mikita's (pictured) organization that designs original bowties and donates a portion of the proceeds to marriage equality causes.
If Illinois' lawmakers make good and pass equality, it will be the 10th state to let same-sex couples marry. That's one-fifth of the country – not enough, but a solid base.