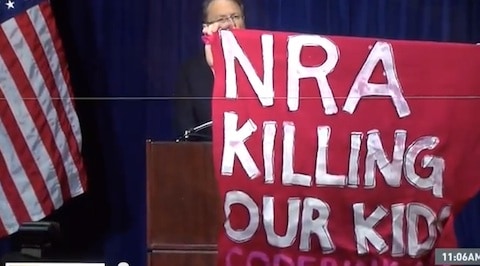 Having said it planned to offer "meaningful contributions" to end gun violence in schools, Executive Director Wayne LaPierre spoke at a press conference on Friday morning and called for Congress to immediately appropriate money to put armed officers in every school in America. LaPierre said the NRA has 11,000 police training instructors willing to help.
LaPierre was interrupted by a protester from the activist group Code Pink, who unfurled a banner that read "NRA Killing Our Kids"and was carried out yelling the phrase.
The National School Shield program will be led by former Congressman Asa Hutchinson.
Watch the protester's moment and the full press conference, AFTER THE JUMP…
More from USA Today's live blog:
11:17 a.m. LaPierre asks: "Why is the use of a gun when it's asked to be used to protect the president or used by the police, but bad when it's used to protect children." He calls on the media to "at least admit that it's possible" that armed guards could have stopped the Newtown massacre.
11:13 a.m. LaPierre criticizes the media for getting basic facts about guns wrong. "They don't know what they are talking about. He makes the point that increased regulation of guns amounts to "dishonest thinking." He adds, "The only thing that stops a bad guy with a gun is a good guy with a gun."
11:09 a.m. Federal gun prosecutions have decreased by 40% to lowest levels in a decade, LaPierre notes. He criticizes media for placing the blame on gun rights advocates and failing to talk about the "callous, corrupt shadow industry" pushed by Hollywood and video game makers.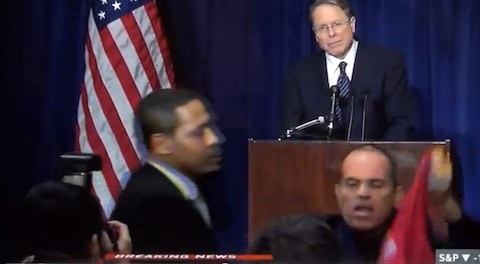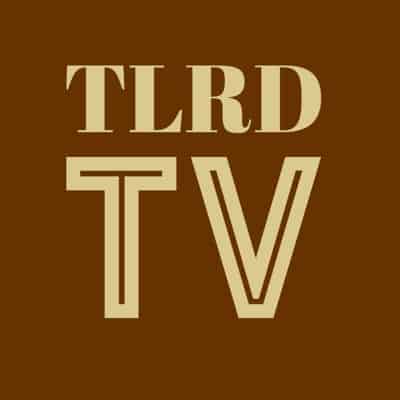 And here's the presser: