Todd Gloria is the new president of the San Diego City Council, San Diego Gay and Lesbian News reports: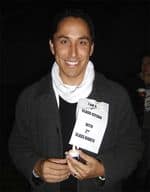 Gloria, who is openly gay, represents District 3 that includes the LGBT-dominated areas of Hillcrest and North Park. The redrawing of council districts also means that Gloria represents Downtown.
"I am incredibly honored to have the support of my colleagues today. It is an honor to know that these eight people – who are leaders, who love their communities, and who LOVE San Diego – are trusting me to be the Council President," Gloria said after the vote.
Gloria immediately acknowledged his predecessor, Tony Young, who held the position for the last two years until he resigned from his seat to take a job to head the local Red Cross.
"I have big shoes to fill. Mr. Young elevated the rote of Council President greatly, and the entire City has benefited," Gloria said.
Gloria was elected unanimously. San Diego's first Democratic mayor in 20 years, Bob Filner, was also sworn in yesterday.
(photo by rex wockner)