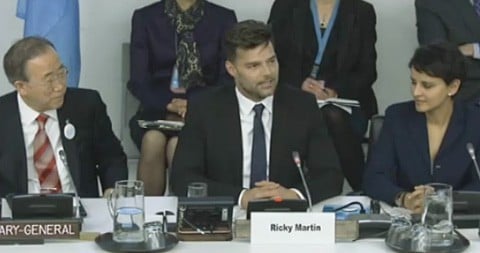 Ricky Martin also participated in today's Human Rights Day panel at the United Nations, talking to those assembled about his decision to come out. He added that he wishes he could come out again because of the joy that it brought him.
Martin also talked about the institutionalized homophobia he encounters every day when he is told in interviews and by fans on social media to stop talking about LGBT issues.
"People that used to listen to my music say, "Ricky stop it! Stop talking about LGBT issues. We understand. You're gay. That's it. We're tired of that subject…It brings back the fear again – self esteem issues kick in…I guess I'll use my music to talk about this as well."
Watch, AFTER THE JUMP…
Read UN Secretary-General Ban Ki-Moon's remarks HERE.