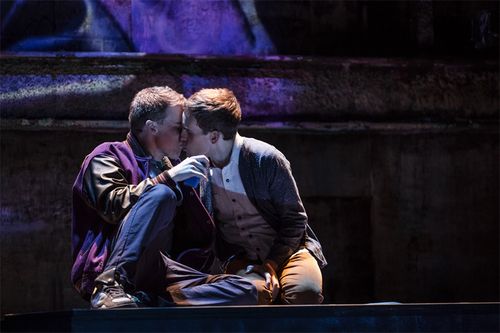 BY NAVEEN KUMAR
An exhilarating and affecting rock
musical that opened Off-Broadway last night at New World Stages, bare serves up an insightful depiction of
emotional truths inherent to the sprawling, messy, and often wrenching
experience of adolescence.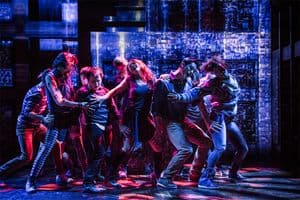 Formerly billed as 'A Pop Opera'
when it made its world premiere in Los Angeles in 2000 and Off-Broadway bow
in 2004, bare galvanized something of
a cult following, and has since seen some two dozen productions both regional and
international. A highly anticipated and newly revised production arrives
Off-Broadway this season under the energized direction of Stafford Arima with
choreography by Travis Wall.
With book and lyrics by Jon
Hartmere and music by Damon Intrabartolo (and additional songs by Hartmere and
Lynne Shankel), the show tackles many of the challenges that anyone with a
taste for teen movies or musicals will likely recognize as standard territory—with
the obvious exception of a sensitively rendered romance between two teenage
boys at its center. The hopes and hazards of young love, the thrills and
unexpected consequences of sex and substance abuse, the urgent hunger for validation
from friends, parents, teachers, and (in this case) God—familiar stakes because
each in our own way, we've all been there.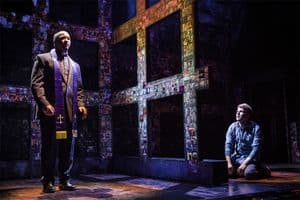 The clever hand with which bare brings together the pains and
pleasures of being young, and its particular focus on the trials of weathering high
school as a gay teen perhaps explain why it has garnered a passionate and loyal
following. Though its 2000 world premiere pre-dates several subsequent youth-driven
musicals, this latest staging owes much to exceptional recent outings that have
made a distinct mark on the landscape, including Spring Awakening and American
Idiot, both helmed on Broadway by Michael Mayer.
The scribes present a story that's
alternately witty and quite touching, transforming what was a sung-through
opera into a well crafted musical with book scenes that help carve out engaging
characters. A virtuosic cast of young performers brings breathable life to a sometimes
typical group of high-school students navigating their way through Catholic
boarding school.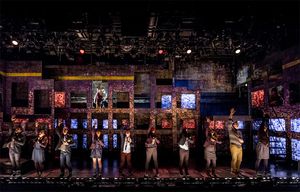 The furtive gay lovers on whom the
plot centers—a sensitive athlete able to pass for straight, and a more obvious
candidate for class outcast, are played with endearing chemistry by impressive newcomers
Jason Hite and Taylor Trensch, respectively. As their clear-eyed sympathetic teacher
(with a crowd-riling turn as the Virgin Mary), Missi Pyle (The Artist) doles out bone-dry wit that cracks like a whip.
Though the whole gang rehearsing
for a school production Romeo and Juliet
lends formula to the plot, it's a suitable one—bringing to the fore the high and
sometimes blinding stakes of young love and the struggle to keep it secret from
misguided powers that be. Seamless integration of mobile tech and digital media
in both plot and design reflect the production's keen understanding of their
indispensible influence on how young people think about themselves and their
relationships.
Ultimately, bare contributes an important voice to a broader conversation about
equality and tolerance, all the more compelling because its impact is both visceral
and incisive. Rather than hand out neatly wrapped answers to difficult
questions about faith and acceptance, the show lays bare the heartbreaking pain
of coming of age in a world in which these questions need to be asked at all. 
Naveen Kumar is a writer and editor living in New York City. He has spent close to ten years working in the New York theatre business and recently earned a masters degree in English and Comparative Literature from Columbia University.You can follow Naveen on Twitter @Mr_NaveenKumar.