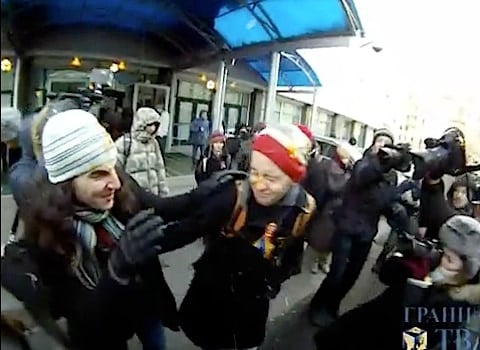 Here's more info on the protests in Russia today against laws that would ban "gay propaganda", along with better video showing the egg-throwing, the attacks on the demonstrators and the kiss-in.
Watch it, AFTER THE JUMP…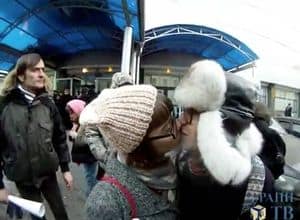 And more info from the Russian LGBT Network:
Today, 19 December 2012, Russian LGBT activists in different cities took to the streets protesting against a new amendment (article 6.13.1) to the Administrative Offences Code of the Russian Federation which creates administrative responsibility for so called 'propaganda of homosexualism". The protests were took place despite the fact that the State Duma moved the first reading of draft law at the very last moment to 22 January 2013.
In Moscow 20 activists from Russian LGBT network and Equality March gathered for a series of one-man pickets with banners "We are against article 6.13.1", "For freedom of views and believes, against totalitarian law" and other. The pickets took place from 9:00 till 11:00 near the Russian State Duma building. And although at the same time the pickets of so called Orthodox activists took place nearby, there were no one arrested.
At 12:00 LGBT activists approached the Duma to hold a "Propaganda of love" protest act involving couples kissing in front of the Duma building (homosexual as well as heterosexual ones). In several minutes the Orthodox activists started to throw eggs at the LGBT activists, some of aggressive men attacked the couples. The police arrested 18 people around 12:30. Among them were 11 participants, 5 Orthodox activists and 2 journalists. All arrested were handed into a prison truck, where they were kept for more than two hours without being informed about the reason of their arrest. Now they are still in the police station.
In Saint Petersburg there were also one man pickets. 5 LGBT activists from "St.Petersburg LGBT-organization Coming Out" and from the "Straights for the LGBT equality Alliance" protested in Malaya Sadovaya Street. The police watched the pickets but arrested no one.
In -35C frozen Tomsk Russian LGBT network activist Natalia Mizina protested in front of the regional Administration building for 30 minutes. She wasn't arrested as well.
There was an approved protest rally in Samara. It's interesting that the city government rejected the rally in the proposed place but approved it in the Safono's boulevard near a school. Six people took place in a rally, there were about the same number of policemen and journalists. Some of people passing by took side of the activists. No one was arrested in Samara despite the fact that there is a law prohibiting so called "propaganda of homosexuality".
In Arkhangelsk there were 3 pickets near the Regional Deputy Assembly for the Russian LGBT network campaign "Against article 6.13.1".
Here's the group's Facebook page where you can find more photos.
Watch, AFTER THE JUMP…